October Fostering Events
Tuesday 15 October
Coffee morning / drop-in 10am-3pm
Fostering Shop, 1st Floor Mander Centre, opposite T H Baker near to Debenhams
Friday 18 October
Coffee morning / drop-in 10am-3pm
Fostering Shop, 1st Floor Mander Centre, opposite T H Baker near to Debenhams
Sunday 20 October
Black History Event, The Way, 12.30pm -7pm
Tuesday 22 October
Coffee morning / drop-in 10am-3pm
Fostering Shop, 1st Floor Mander Centre, opposite T H Baker near to Debenhams
Friday 25 October
Coffee morning / drop-in 10am-3pm
Fostering Shop, 1st Floor Mander Centre, opposite T H Baker near to Debenhams
---
Need to know more about Fostering Events?
Please get in touch if you need to find out more information about any of our fostering events or if you are interested in attending.
*Mandatory fields
---
November Fostering Event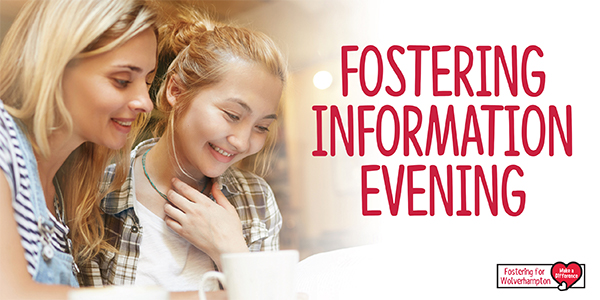 Fostering for Wolverhampton Information Evening
Thursday 21 November from 6.30pm until 8pm
International Suite, Molineux Stadium, Waterloo Road, Wolverhampton, WV1 4QR
Interested in becoming a foster carer, then come along to meet the Fostering for Wolverhampton team at the Molineux Stadium. It's an opportunity to find out more about this rewarding career including the support and financial benefits and speak directly to a current foster carer. Refreshments will be served.
Book your place